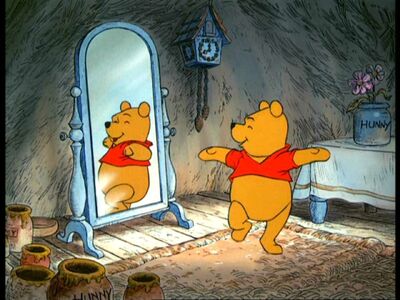 Up Down Touch the Ground is a song written by the Sherman Brothers for the Winnie the Pooh short, Winnie the Pooh and the Honey Tree.
Pooh: Oh yes it's time for my stoutness exercises!
Mr. Narrator: Pooh stood in front of the mirror and he tried to touch his toes
Up, down, up When I up, down and touch the groundIt puts me in the moodUp, down and touch the groundIn the mood for food I am stout, round and I have foundSpeaking poundage wiseI improve my appetiteWhen I exercise Oh, stuff and fluff, there that's better, thank you, now then where was I? Oh yes, I'm rumbly in my tumbly. It's time for something sweet.
I am short, fat and proud of thatAnd so, with all my mightI up, down and up and downTo my appetite's delightWhile I up, down and touch the groundI think of things to chew, like honey milk and chocolateWith a hefty happy appetite, I'm a hefty happy PoohWith a hefty happy appetite, he's a hefty happy Pooh
Oh, bother! Empty again! Only the sticky part's left. 
Community content is available under
CC-BY-SA
unless otherwise noted.