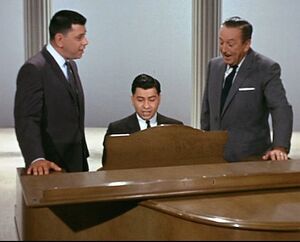 Welcome to the The Sherman Brothers Wiki
[
]
The Sherman Brothers were an American songwriting duo that specialized in musical films, made up of Robert B. Sherman (December 19, 1925 – March 6, 2012) and Richard M. Sherman (born June 12, 1928).
The Sherman Brothers wrote more motion-picture musical song scores than any other songwriting team in film history.  Film scores of the Sherman Brothers include Mary Poppins, Chitty Chitty Bang Bang, The Jungle Book, Bedknobs and Broomsticks, Charlotte's Web and The Aristocats. Perhaps their most well known song is "It's a Small World (After All)" which plays at Disney theme parks spanning the globe. According to Time.com, this song is the most performed song of all time.
In 1965 the Sherman Brothers received Academy Awards for "Best Song" ("Chim Chim Cher-ee") and "Best Score" for Mary Poppins. In 2008 they received the National Medal of Arts which is the highest honor conferred upon artists or patrons of the arts by the United States Government. The award was presented by United States President George W. Bush in an East Room ceremony at The White House. They are only the second musical theatre or musical film songwriters to receive this award.
This wiki is about the Sherman Brothers and their songs.
Describe your topic
[
]
You can put in information about the films the Sherman Brothers wrote songs for, the characters in those film and characters who sang those songs, people related or had past experience to the Sherman Brothers like Walt Disney and most of all their songs.
Latest activity
[
]
Walt Disney, Jr. (Founder)
Check Our Partner Wikis!