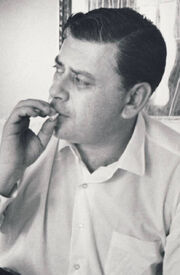 Robert Bernard Sherman
 (December 19, 1925 – March 6, 2012)
[1]
 was an American 
songwriter
 who specialized in 
musical films
 with his brother 
Richard Morton Sherman
. According to the official 
Walt Disney Company
 website and independent fact checkers, "the 
Sherman Brothers
 were responsible for more motion picture musical song scores than any other songwriting team in film history."
[2]
 Some of the 
Sherman Brothers
' best known songs were incorporated into live action and animation musical films including: 
Mary Poppins
, 
The Jungle Book
, 
The Many Adventures of Winnie the Pooh
, 
Chitty Chitty Bang Bang
, 
The Slipper and the Rose
, and 
Charlotte's Web
. Their best-known work, however, remains the 
theme park
 song 
"It's a Small World (After All)"
. According to 
Time.com
, this song is the most performed song of all time.  
Sherman was born on December 19, 1925, in New York City, to Russian Jewish immigrants, Rosa (Dancis) and Al Sherman.  Al Sherman, a songwriter, paid for Robert's hospital delivery costs with a royalty check that had arrived that day for the song "Save Your Sorrow". His brother and later songwriting partner, Richard, was born in 1928. Sherman's father later became a well known Tin Pan Alley songwriter.
As a youth, Robert Sherman excelled in intellectual pursuits, taking up the violin and piano, painting and writing poetry. Following seven years of frequent cross-country moves, the Shermans finally settled down in Beverly Hills, California. Some of the primary schools Robert attended in Manhattan included PS 241 and the Ethical Culture Fieldston School; in California, the El Rodeo School. Throughout his years at Beverly Hills High School, he wrote and produced radio and stage programs for which he won much acclaim. At age 16, he wrote Armistice and Dedication Day, a stage play centered on contemporary 1940s Americans that showed how their lives were inextricably changed following the December 7, 1941, attack on Pearl Harbor. The play yielded thousands of dollars for War Bonds and earned a special citation from the War Department.
In 1943, Sherman obtained permission from his parents to join the army a year early, at age 17. On April 12, 1945, Sherman was shot in the knee, forcing him to walk with a cane for the rest of his life.  After the war, Robert and Richard Sherman attended Bard College together, graduating side by side in 1949.  They began writing in 1950 and achieved moderate success in their first decade of collaboration.  
Sherman Brothers had their first Top Ten hit with "Tall Paul", which was sung by Annette Funicello. The success of this song attracted the attention of Walt Disney who eventually hired the Sherman Brothers as staff songwriters for Walt Disney Studios.[16] While at Disney, the Sherman Brothers wrote what is perhaps their most recognized song: "It's a Small World (After All)" for the 1964 New York World's Fair.
In 1965, the Sherman Brothers won 2 Academy Awards for Mary Poppins – Best Original Score, which included "Feed The Birds", "Supercalifragilisticexpialidocious"; and Best Original Song, "Chim Chim Cher-ee". Since Mary Poppins' premiere, Robert B. Sherman subsequently earned 9 Academy Award nominations, 2 Grammy Awards, 4 Grammy Award nominations and 23 gold and platinum albums.
Robert and Richard Sherman worked directly for Walt Disney until Disney's death in 1966. After leaving the company, the brothers worked freelance as songwriters on scores of motion pictures, television shows, theme park exhibits and stage musicals.
Their first non-Disney assignment came with Albert R. Broccoli's motion picture production Chitty Chitty Bang Bang in 1968 which garnered the brothers their third Academy Award Nomination. In 1973, the Sherman Brothers made history by becoming the only Americans ever to win First Prize at the Moscow Film Festival for Tom Sawyer for which they also authored the screenplay.  
The Sherman Brothers' film scores include:  
Sherman passed away on March 6, 2012.  His son Robert J. Sherman finished editing Sherman's posthumously released autobiography, Moose: Chapters From My Life .  In 2014, Robert J. Sherman produced and narrated a cabaret called, A Spoonful Of Sherman which was a musical tribute to his father's life and times.  The show was lauded by both audiences and critics alike.  Since 2014, in collaboration with the Disneyana Fan Club, the younger Sherman also leads an annually held walking tour entitled Walking With Giants which is a tour of Beverly Hills, the home town of the the Sherman Brothers and the Sherman family.  
Community content is available under
CC-BY-SA
unless otherwise noted.